Welcome to Polyversal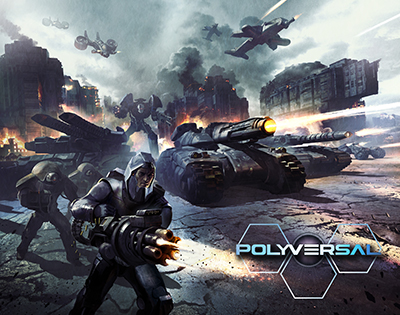 Polyversal is a new 6mm-15mm sci-fi miniatures system designed by Ken Whitehurst and developed and published by Collins Epic Wargames. Polyversal works with miniatures you may already have in the 6mm-15mm range and includes a robust Combatant Design Tool, a web-based application called Arsenal. The setting is a gritty plausible future with a storyline that promises to capture your imagination while providing endless hours of gaming. Don't have 6mm-15mm miniatures? No problem. We've partnered with 5 miniatures manufacturers to supply a selection of miniatures battlegroups in boxed sets of Polyversal. Available now, with or without miniatures, Polyversal sets include everything you need to get started. To read more, check out our Introduction to Polyversal or watch this livestream demo/overview:
Polyversal Updates
Introducing Free Shipping
Collins Epic Wargames is pleased to offer Free Shipping on everything in our store, and yes, worldwide. We don't like to pay for shipping and if that's a barrier for you to try one of our games or pick up an add-on or expansion, we're happy to remove that barrier. There are no store codes required. Shipping is just simply not charged. Please check out our Free Shipping policy. There are a few stipulations for shipping outside of the USA which are important to note for our international customers: CEW Free Shipping policy
7 Full-length Polyversal Game Events at Origins
Collins Epic Wargames and Ivan Jurkovic are pleased to host 7 full length introductory games of Polyversal as official events at Origins Game Fair in Columbus, OH June 22-25. To see the event times and sign up, check out this link: Polyversal Events at Origins 2023
Warthog MLRS and Infernus Add-On Minis back in stock!
We have restocked two add-on Miniatures from Microworld Games, the Warthog MLRS x3 and Infernus, which are great additions to any Texas Militia Battlegroup. Check out the Add-Ons page for links to each in our store.
Collins Epic Wargames partners with Strato Minis Studio
Collins Epic Wargames is pleased to announce a partnership with Strato Minis Studio from Poland, makers of exceptional 6mm miniatures and known for their Hardwar game, to create multiple new Polyversal battlegroups with Combatant Tiles. Artist James Masino will return to create all new artwork and Ken Whitehurst and Byron Collins will design and balance the battlegroups. Collins Epic Wargames has ordered and received 74 miniatures from the extensive Strato Minis line to begin the selection and design process. Each battlegroup and any stretch goals will be fully designed with completed artwork prior to launching a Kickstarter campaign to raise funding for production. These battlegroups will offer nice additions for existing Polyversal players and an excellent introduction to the game for new players. Check out the extensive line of miniatures from Strato: Strato Minis Website

Origins Award Nominee!
We're thrilled to receive a nomination for Best Miniatures Game from the 2023 Origins Awards! This is a huge honor! All nominees were announced at the 2023 GAMA Expo in Reno, NV. The winner of the award will be announced at Origins in June in Columbus, OH- and we'll be there exhibiting Polyversal.

Major Website Update
We've completed a big website and web store update. New product options, Battlegroup Information Pages with Unit Spotlights, new accessories and add-ons including some individual minis with tiles, extra printed rulebook, and base game configurations have been updated, an updated general gallery, and more. In addition, under Purchase, we have listed the first retailers to stock Polyversal in their stores: Gamechefs LTD, Bricks and Boards Plus, and Tower of Games!
2023 Product Brochure
Our 2023 Polyversal Product Brochure is here! This is an electronic version of our tri-fold brochure and provides a glance at our main products. Click here to download: 2023 Brochure
New Arsenal Tutorial Video
We have posted a new tutorial video for Polyversal Arsenal, our design tool for creating Combatant Tiles. You can check out Arsenal here: Arsenal App.
Polyversal General Release 11-1-22 and
FREE shipping
We are pleased to announce the general release of Polyversal for 11-1-2022. All Polyversal products are currently in stock and ready to ship, including miniatures battlegroups. We're also excited to offer free worldwide shipping for all orders (excluding import fees/VAT). To order, please check out our store.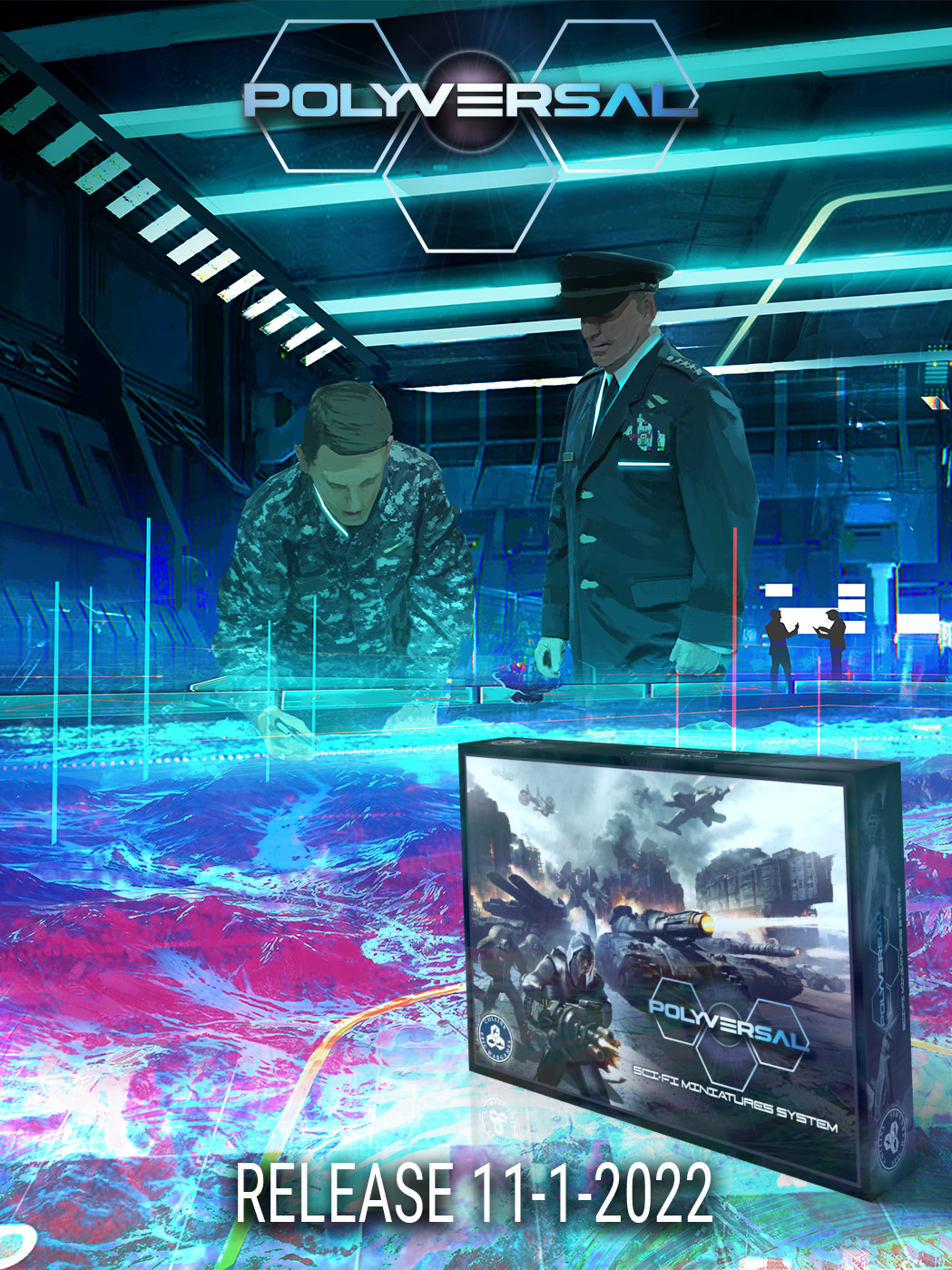 Polyversal Unboxing Videos
We've posted a number of unboxing videos in our Reviews section. Check out videos from Jeff at The Gaming Gang, Moe's Game Table, Shawn of Texas Gamer Geeks.
Daily Unit Spotlights
Leading up to the release of Polyversal, we posted daily previews of our Battlegroup Tiles like this one for the OPFOR Minutemen Dragonfly. See all of the spotlights on our Facebook Page or Instagram.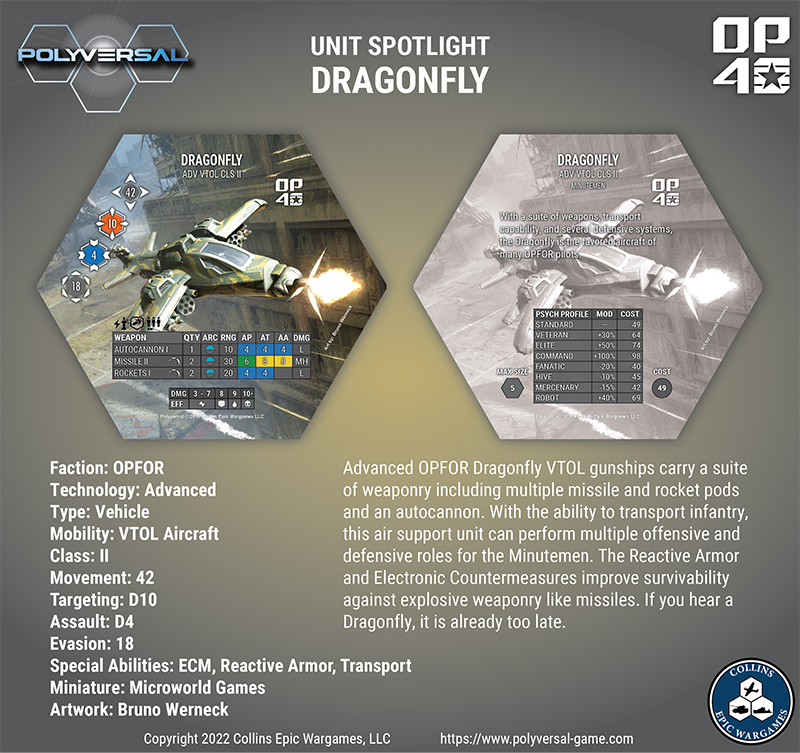 First Polyversal Limited Edition T-Shirt On Sale Now!
Celebrating the release of Polyversal, we're excited to offer our first limited edition of 75 Polyversal T-Shirts featuring the M-65 Ridgway Walker from Brigade Models and art by James Masino. This shirt is available in 3 colors and a variety of Adult and Youth sizes. Once we sell 75, all are printed and the design is retired. Reserve yours today! Store Link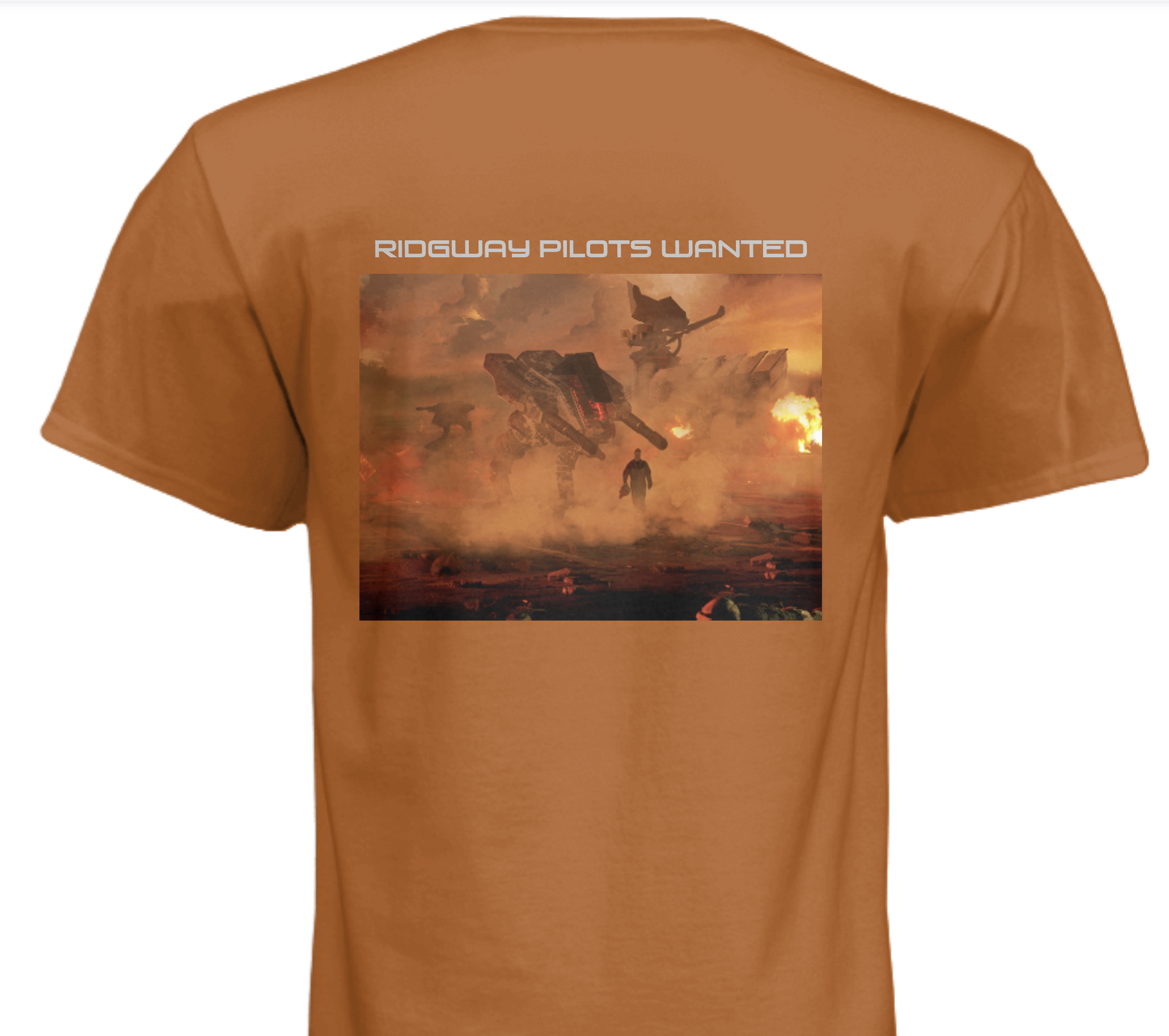 The Polyversal Electronic Rules, Print-on-Demand Rulebook, and Quick-Start Combatant Tile Packs are available for sale exclusively on Wargame Vault. The Polyversal Web-Based Design Application, Arsenal, is included. The Rulebook is available for order through Wargame Vault as a full-color Print-on-Demand softcover book option as well (or get the production rulebook in a boxed set).