Polyversal Updates
Polyversal is Shipping to Backers and Preorder Supporters (SEPT 2022)
After many years of waiting, we're excited to be fulfilling all of our Polyversal Kickstarter Orders and Preorders. After these are all shipped out, we'll announce a general release!
Daily Unit Spotlights
Leading up to the release of Polyversal, we're excited to post daily previews of our Battlegroup Tiles like this one for the OPFOR Minutemen Dragonfly. Follow along on our Facebook Page or Instagram.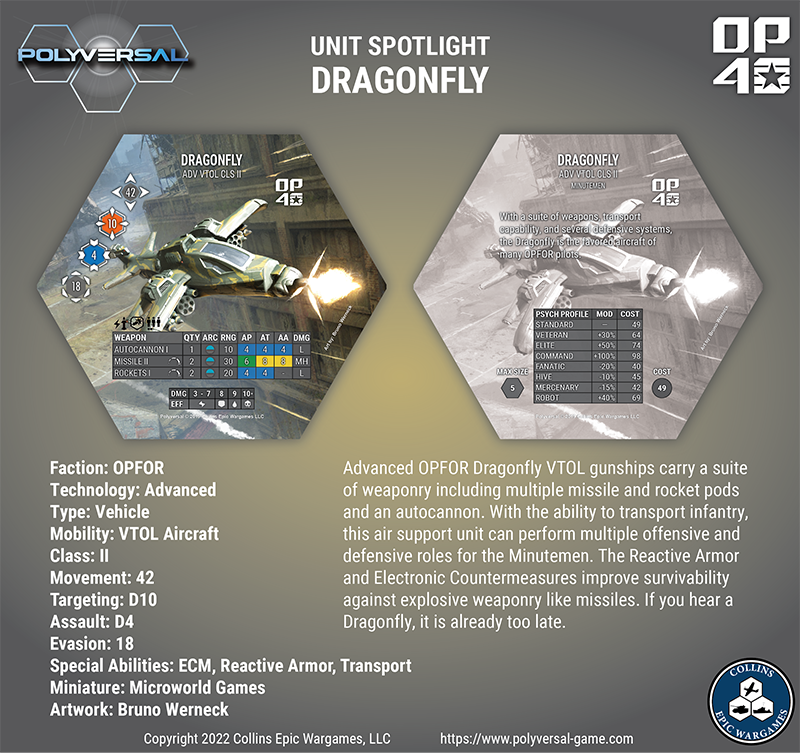 First Polyversal Limited Edition T-Shirt On Sale Now!
Celebrating the upcoming release of Polyversal, we're excited to offer our first limited edition of 75 Polyversal T-Shirts featuring the M-65 Ridgway Walker from Brigade Models and art by James Masino. This shirt is available in 3 colors and a variety of Adult and Youth sizes. Once we sell 75, all are printed and the design is retired. Reserve yours today! Store Link
6/23/22 Update: Our print run of Polyversal Sci-Fi Miniatures System is complete and heading to us via ship! Get ready to command your future army and bring any miniatures you want to use to the tabletop with help from our web-app, Arsenal.

The Polyversal Electronic Rules, Print-on-Demand Rulebook, and Quick-Start Combatant Tile Packs are available for sale exclusively on Wargame Vault. The Polyversal Web-Based Design Application, Arsenal, is included. The Rulebook is available for order through Wargame Vault as a full-color Print-on-Demand softcover book option as well.
Polyversal is in production after a successful Kickstarter project (see it here). We are doing a limited production of Polyversal's initial 7 products. All products are now detailed on this website in the Products tab and are partially available (Minis, Electronic Rule, Dice available now; Printed game components printing now!): Order Today!
Welcome to Polyversal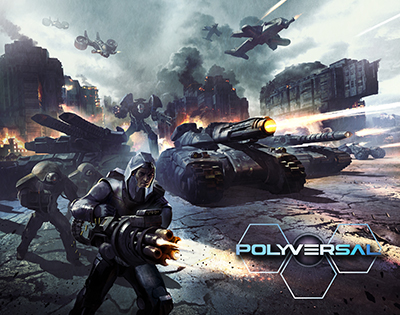 Polyversal is a new 6mm-15mm sci-fi mass combat miniatures system designed by Ken Whitehurst and published by Collins Epic Wargames. The Polyversal system works with miniatures you may already have in the 6mm-15mm range and will include access to Combatant Design rules, allowing you to quickly and easily customize your armies within the rules of the system. The setting is a gritty plausible future with a storyline that promises to capture your imagination while providing endless hours of gaming entertainment. Don't have 6mm-15mm miniatures? No problem. We're working with 5 miniatures manufacturers and 1 miniatures terrain company to supply a selection of 6mm and 10mm (Hawk Wargames only) miniatures for a boxed version of Polyversal with more boxed sets to follow. These boxed sets include everything you need to play the game- gorgeous Combatant Tiles with incredible artwork from Bruno Werneck, dice, tracking counters, orders tokens, quick reference sheets, a comprehensive rulebook and miniatures from some of the best 6mm sci-fi manufacturers out there. For more information, check out our Introduction to Polyversal or start with this Video overview / interview from Origins 2017 with Jeff of The Gaming Gang: