4/22/16: Website Updates
The Polyversal Website has been updated to add a few new sections, namely Forums, Reviews, and Blog. In addition, we've updated the Introduction to Polyversal page with a lot more information. We are still plugging away at preparations for a Kickstarter re-launch very soon. Ken has been busy painting miniatures factions that we can't wait to reveal!
4/1/16: Polyversal Kickstarter relaunching soon!
Our first Kickstarter for Polyversal failed to meet the goal. However, we have taken into account many lessons learned from this attempt and are working them into a new Kickstarter campaign that will launch in April or early May. Please watch us on Twitter @CEWargames and check us out on Facebook at www.facebook.com/Polyversal to find out more about the relaunch and when it will occur.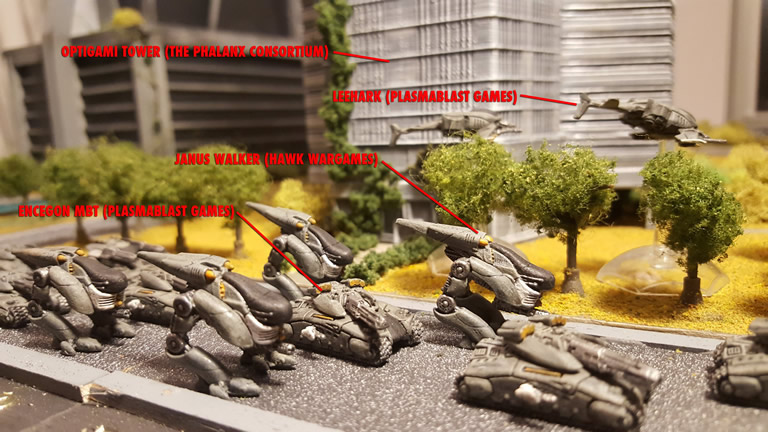 Welcome to Polyversal
Polyversal is a new 6mm-15mm sci-fi mass combat miniatures system designed by Ken Whitehurst and published by Collins Epic Wargames. The Polyversal system works with miniatures you may already have in the 6mm-15mm range and will include access to Combatant Design rules, allowing you to quickly and easily customize your armies within the rules of the system. The setting is a gritty plausible future with a storyline that promises to capture your imagination while providing endless hours of gaming entertainment. Don't have 6mm-15mm miniatures? No problem. We're working with 5 miniatures manufacturers and 1 miniatures terrain company to supply a selection of 6mm and 10mm (Hawk Wargames only) miniatures for a boxed version of Polyversal with more boxed sets to follow. These boxed sets include everything you need to play the game- gorgeous Combatant Tiles with incredible artwork from Bruno Werneck, dice, tracking counters, orders tokens, quick reference sheets, a comprehensive rulebook and miniatures from some of the best 6mm sci-fi manufacturers out there. For more information, check out our Introduction to Polyversal.